Joe Hayden - Dairy Farmer
Located in Tinahely, County Wicklow, brothers Joe and Michael Hayden run a family owned dairy farm. Being part of the Origin Green programme, the farm has been audited to meet the highest standards under the Bord Bia Sustainable Dairy Assurance Scheme.
All milk is produced using a grass-based system with a focus on the continuous improvement of soil fertility, milk, grass quality, and herd genetics. The Hayden family have invested significantly in the expansion of their farm and dairy herd in recent years. Changes on Joe and Michael Hayden's farm include;
Farm area dedicated to the dairy enterprise has increased by approx. 20%.
Cow numbers have increased from 150 to 170.
The volume of fertilizer used has been reduced significantly from 65 tonne to 40 tonne due to improved nutrient management.
Excellent grassland management has facilitated a compound feed reduction.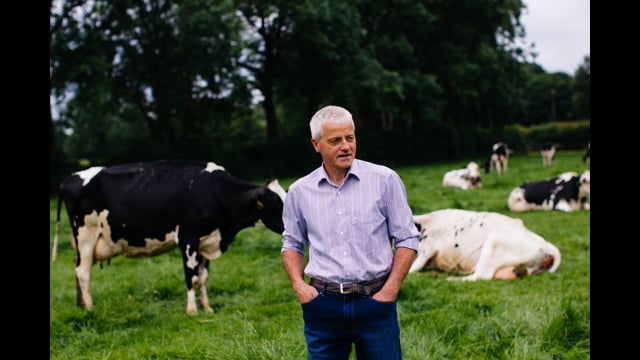 Despite the increased stock numbers and the associated increase in production, the total farm emissions have only increased by 0.3%. This demonstrates that actions to mitigate increased emissions at farm level are very effective.
Similar Members
The Little Milk Company
The Little Milk Company was established in March 2008 and comprises of ten family-run organic dairy farms from Munster and Leinster. The company produce a range of award-winning organic cheddars, brie, and cream cheeses.
Glenilen Farm
As a dairy farm, it has been in Alan Kingston's family for generations, but a new and unexpected chapter in its history opened when his wife, Valerie, began making yoghurt for a local farmers' market.